Swallowtail Pavilion
Chelsea, London, UK
In this intensive collaboration, Expedition provided the means by which an artist and a garden designer could explore the limits of design for a mathematically based form, working within the constraints of the site and the stability of the structure. With the design finalised, we sourced reliable supply-chain partners to meet the tight deadline for the Chelsea Flower Show.
Image gallery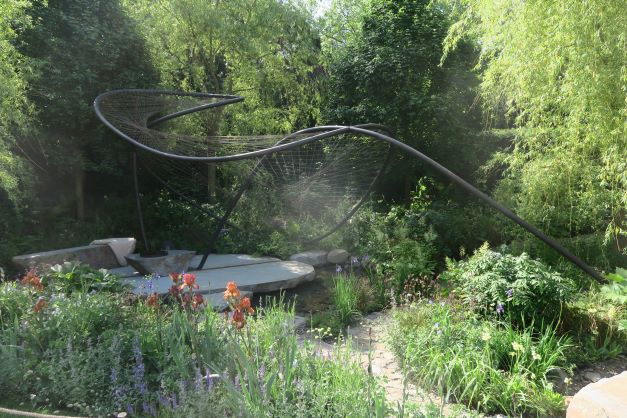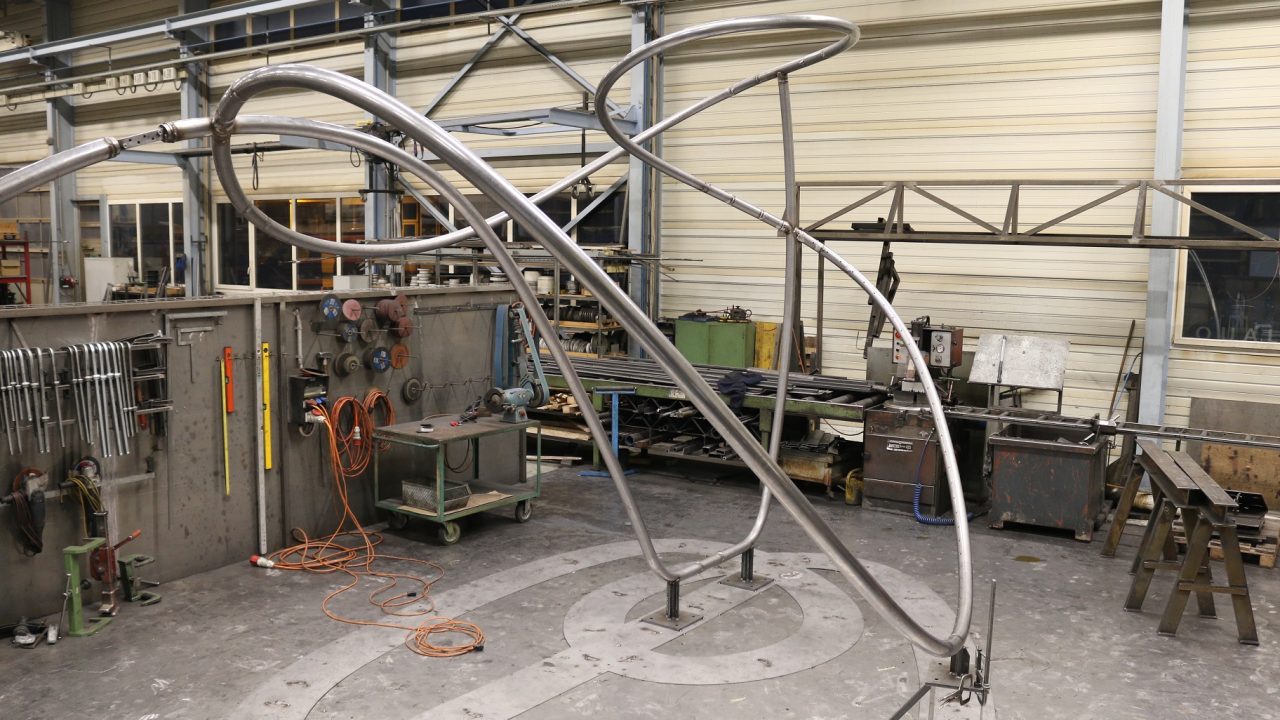 This unusual commission used our structural engineering expertise to help artist and mathematician Allan McRobie and garden designer Jo Thompson to bring to life their vision for a sculptural form inspired by Hogarth's Line of Beauty.  
The Swallowtail Pavilion, which was commissioned by Wedgwood as part of its show garden at the 2018 Chelsea Flower Show in London, exploits the geometrical language of 'catastrophes' to create a sculptural centrepiece of hollow steel tubes connected by copper chains, forming a complex ruled surface, with dramatic changes in appearance depending on angle of view. The sculpture is an exciting realisation of the concepts described in the McRobie's book: The Seduction of Curves. 
Expedition's engineers used Rhino and Grasshopper to build a custom parametric tool, within which the designers could efficiently explore the forms that were possible within the stability requirements of the sculpture, and the physical constraints of the site. A series of workshops brought all members of the design team together and the model provided fast and reliable feedback, backed up by virtual reality, making it possible to rapidly finalise decisions and significantly reducing the time required for iterations. 
Structurally, the resulting form is straightforward, and is free-standing on small concrete pads. The challenge was to find reliable and competent supply chain partners capable of meeting the tight timescale for the high-profile event. 
We had to identify subcontractors who could bend the tube accurately to its final form; ensure that the surface finishes met the necessary standard, and that it was possible to deliver and install the elements of the sculpture to meet the absolute deadline of the show. 
The tube curves smoothly and continuously in three dimensions, making traditional tube bending techniques inappropriate. Expedition worked closely with Swiss steelwork fabricator Pemat to develop a final geometry and jointing system that made it possible to fabricate, transport, and install the pavilion in only four days on site. 
The collaborative design sessions with Expedition really brought the project to life. Their fluency in digital engineering fed seamlessly into the sourcing of bespoke space-age fabrication to deliver a stunning outcome.  
Allan McRobie
Artist, University of Cambridge
Key People
David Hewlett

Senior Engineer
David Hewlett

Senior Engineer