Good engineering improves lives. Expedition has always put people first: our aim is to provide places where people can live alongside nature, in structures that have a positive impact on the world.
In the face of issues like the climate emergency and biodiversity loss, we believe that solutions can be engineered that allow us to coexist with nature. Thoughtful, considered and regenerative design can help communities, as well as the planet, thrive. 
Because people and the planet are not separate issues. They are one. Our role as engineers is a privileged one, giving us the capability to transition into a balanced human and natural environment. Offering lifestyles that sit within our ecological limits, yet give us all a chance to prosper. 
From major infrastructure projects, city planning, transport networks and developments, we work with clients to lower their carbon, align with UN Sustainable Development Goals, and consider how engineering decisions can influence change at a global level. 
In 2020, we became a B-Corporation, and proudly manifest the values that this status suggests. We consider the impact of our work on both the environment (such as carbon, biodiversity and water) and society (such as health, wellbeing, prosperity). We develop system thinking that considers ecology, poverty and developmental challenges. And we look for solutions that promote community, improve the resilience of nature, and offer opportunities for regeneration. 
The Wider Trust
The Useful Simple Trust is committed to leadership on climate action, through our projects and through the way we operate our business.
In line with best practice, we have calculated our corporate carbon footprint and set official science-based targets through the Science Based Targets initiative (SBTi), which aims to limit global temperature rise to 1.5°C.
Our near-term net zero company-wide emissions reduction target is to reduce scope 1 and scope 2 GHG emissions by 46% by 2030 from a 2019 baseline year, and to measure and reduce our scope 3 emissions.
By signing up to the SBTi we have joined the Race to Zero (a UN-backed global campaign to take rigorous and immediate action to halve emissions by 2030).  Our targets are recognized on the Science Based Targets initiative website as well as the We Mean Business website and SME Climate Hub.
As an SME offering professional services, based in rented offices, our corporate carbon footprint is small.  Our biggest opportunity to influence carbon reduction is through our design and consultancy work in the built environment.  Through our GET SET ZERO approach, we are supporting all sorts of clients to accelerate their journey to net zero and to design buildings, masterplans and infrastructure projects with low whole life carbon emissions. Check out our project case studies for more information.
How we improve
We push for positive change, and our four Impact pillars help us understand and improve our performance with every project.
GET / SET / ZERO

We help our clients accelerate their journey to carbon neutral by offering specific services in their projects, such as:  

Engineering infrastructure and energy systems to deliver net zero carbon

Minimising embodied life cycle carbon through lean design, prefabrication, material choice and building reuse

Developing route maps to zero carbon

Performing life cycle analysis and reporting

Creating circular economy strategies
RESTORE + ADAPT

We work to secure our clients a foundation for climate resilience by offering services such as:

Creating water-sensitive design and green infrastructure solutions

Assessing the microclimate to inform masterplanning

Understanding biodiversity net gain

Developing green infrastructure strategies
WORK = GOOD

We create and unlock social value through our clients' projects by providing services such as these:

Assisting community-owned infrastructure and low cost homes

Creating modular solutions for local supply chains

Designing architecturally refined buildings and place-integrated infrastructure

Developing circular economy and sustainability policies

Creating social value and reporting
MORE > WITH < LESS

We maximise the efficiency of our clients projects and create value by providing specific services, such as: 

Creating lean design and optimised infrastructure and structure

Developing multifunctional components

Creating innovative systems and components

Providing corporate sustainability strategies, training and development

Delivering innovation services
We deliver the positive impact our pillars demand by focusing on what matters. That could be working closely with the Environment Agency to develop long-term flood and climate resilience; developing sustainability statements or whole-life carbon assessments; or simply minimising carbon and costs through innovating new design and manufacturing ideas. Engineering makes an impact. We do our best to make that impact a positive one.
Image gallery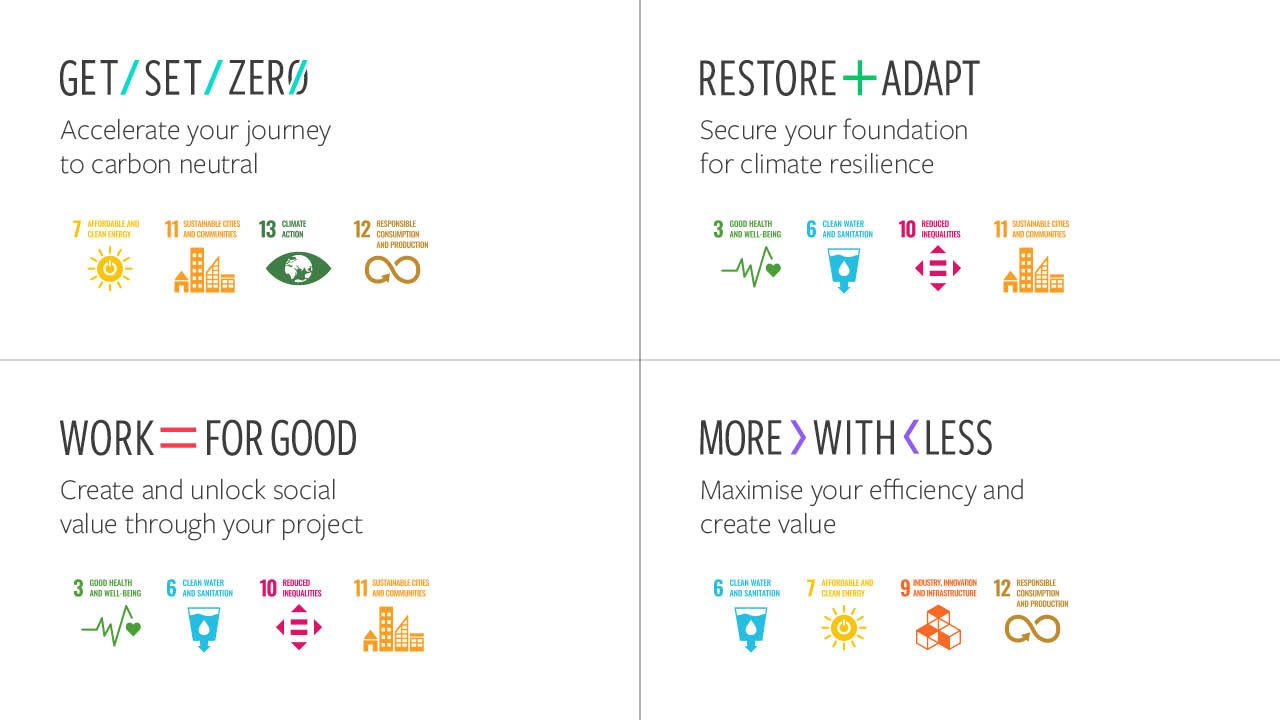 Our Clients
We work with developers, architects, artists, government bodies, charities, fabricators and contractors to achieve pioneering results with our design and engineering.